FreakOut Gold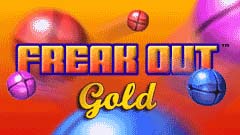 FreakOut Gold Game Description :
Freak out over this sizzling action-puzzler that will test your reflexes and challenge your mind. Take a simple objective - fill 75% or more of the game board - add intense action - dodge the bouncing balls and obstacles - and you've got one of the most addictively intriguing games ever. Featuring beautiful graphics, fresh "Naked Music" soundtrack, and tons of unique levels, FreakOut Gold is a wonderful addition to any game library.
Download Now 2.98 MB Buy Now $19.95

System Requirements:
FreakOut Gold Screenshots:
Windows 7/Vista/2000/XP
Pentium 200 MHz compatible or higher
DirectX 6.0 with compatible video card
32 MB of RAM
SVGA graphics card

Click to See Bigger Image
FreakOut Gold Full Version Features:
Novice, Pro, and Expert modes (3 screen sizes and speed variations).
Over 200 Uniquely Generated Levels.
Start at any level up to 50.
Save Games and High Scores.
Beautiful Full Screen Graphics.
4 backgrounds; plus select, rotate, or make your own backgrounds.
Crazy Heliball power-up makes you invincible.
Cool sound effects and voice-overs.
Grooving music from Naked Music.
If you like FreakOut Gold, You'll also like:
---
Bud Redhead

Magic Ball 2