Z-Ball Gold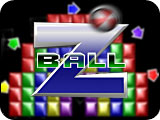 Z-Ball Gold Game Description :
Z-Ball Gold is a ball breaking game with a side view ala Pong. The cool thing about this game is the powerups which are unique and entertaining. You will find yourself playing the game over and over just to see what kinds of crazy powerups you haven't seen yet. The levels are also unique with some features that have never been seen. Some obstacles steer your ball wildly like a fan, some warp your ball to other parts of the screen, others speed up your ball in certain directions.
Download From Site 1 Download From Site 2 2.62 MB Buy Full Version $18.99

System Requirements:
Z-Ball Gold Screenshots:
Windows 7/Vista/XP/2000/NT
Pentium II 200 MHz processor
32 MB RAM
DirectSound compatible sound card

Click to See Bigger Image
Z-Ball Gold Full Version Features:
Break through all 20 levels in the FREE version and 150 unique levels in the full version!
Full 3D hardware rendered graphics for ultra-smooth gameplay.
Impeccable physics and ball control. You can even spin the ball, just like a ping pong paddle!
You'll be playing in no time because Z-Ball is only a 4 meg download. That's only 10 minutes on a 56k modem.
60-day money-back guarantee!
If you like Z-Ball Gold, You'll also like:
---

Platypus

Best Friends
Cosmo Bots