Cosmo Bots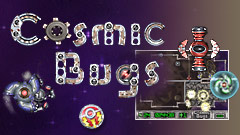 Cosmo Bots Game Description :

" The most addictive game we have ever made! "
Cosmo Bots takes its cue from the addictive classics Jezzball and Qix. But that's where the similarity ends, because Cosmo Bots has different shapes for each level, 3D rendered graphics, digital sound, new enemies, and tons of power-ups. The free version features a full set of 50 levels to play, and does not require any special hardware.
Download From Site 1 Download From Site 2 6.66 MB Buy Now $19.99

System Requirements:
Cosmo Bots Screenshots:
Windows 7/Vista/XP/2000
Pentium II 200 MHz processor
Direct3D compatible 3D graphics card with 16 MB
64 MB RAM
DirectSound compatible sound card

Click to See Bigger Image
Cosmo Bots Full Version Features:
Over 500 levels of action!
Addictive gameplay that will keep you happy for hours.
Easy to control, easy to play- have fun immediately!
You'll be playing in no time because Cosmo Bots is only a 6.5 meg download. That's only 15 minutes on a 56k modem.
Safe, secure online ordering from a well-known and trusted source.
60-day money-back guarantee!
If you like Cosmo Bots, You'll also like:
---

Platypus
Insaniquarium

Water Bugs