Water Bugs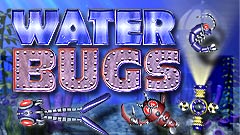 Don't let those crazy bugs ruin our oceans!
The bugs are back! From the creators of Cosmic Bugs comes another thrilling challenge of wits and reflexes. Crazy bugs have crash landed in the oceans and it's up to you to stop their destructive path through over 500 levels. Draw lines through strange shapes to trap the bugs, fill up the screen, and save the day. Gorgeous undersea graphics highlight this exciting adventure. Battle the bugs, today!
Download From Site 1 Download From Site 2 5.20 MB Buy Now $19.99

System Requirements:
Water Bugs Screenshots:
Windows 7/XP/2000/Vista
Pentium II 400 MHz processor
Direct3D compatible 3D graphics card with 16 MB
64 MB RAM
DirectSound compatible sound card

Click to See Bigger Image
Water Bugs Full Version Features:
Over 599 levels of action!
Addictive gameplay that will keep you happy for hours.
Easy to learn and play, but fun to master.
You'll be playing in no time because Water Bugs is only an 8.5 meg download. That's only 15 minutes on a 56k modem.
Safe, secure online ordering from a well-known and trusted source.
If you like Water Bugs, You'll also like:
---
Cosmo Bots

Platypus Game