Insaniquarium Deluxe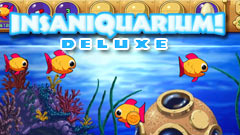 Insaniquarium Deluxe Game Description :
Feed fish! Fight aliens! It's the craziest aquarium you've ever seen in this spectacular action-puzzle adventure from the makers of Bejeweled, Bookworm, and Zuma. Feed your fish and watch your aquarium, and wealth, grow. Then, use your funds to buy more fish, unlock secret pets, and upgrade your tank. But, watch out! Seafood-loving aliens have their eyes on your school and it's up to you to keep them safe. It's not crazy - it's insane!

Download Now 9.71 MB

Buy Now $19.95

CD Jewel Case $21.95
Insaniquarium Deluxe Screenshots: Click to See Bigger Image




System Requirements:
Windows 2000/XP/Vista/7
500MHz processor
64 MB RAM
Sound Card
SVGA Graphics Card
DirectX 7
Insaniquarium Deluxe Full Version Features:
4 game types: Adventure, Timed, Challenge & Virtual Tank!
Spectacular new cel-shaded 3d graphics!
Enhanced sound effects and original score!
Defeat terrifying new extraterrestrial boss beasts!
Create your own personalized aquarium screensaver!
CD BONUS! This disc includes Insaniquarium desktop wallpaper and the wacky Insaniquarium Party Mix!
If you like Insaniquarium Deluxe, You'll also like:
---

Jets'n'Guns

Alien Shooter
AirStrike 3D