AirStrike 3D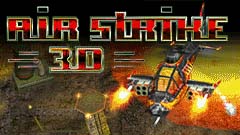 You alone have the skill to fly the most advanced helicopters in the skies today. You alone have the ability to guide their awesome firepower to its target. You alone are the hope of a nation. It won't be easy - varying landscapes, the darkness of night, and mighty defenses lie ahead. But, prove your worth and you'll be rewarded with powerful new helicopters and crushing new weapons. An intense, action-packed experience, AirStrike 3D will leave you either begging for mercy, or asking for more!

Download Now 7.96 MB Buy Now $18.75 Add a CD Rom $9.95

System Requirements:
AirStrike 3D Screenshots:
Windows 7/Vista/XP/2000/NT
Pentium II 400 MHz or equivalent
RAM: at least 128Mb
100% DirectX 3 compliant sound card
100% OpenGL 1.xx compliant 3D accelerated video card

Click to See Bigger Image
AirStrike 3D Full Version Features:
20 Large Levels, with 5 Different Landscapes.
5 different landscape types!
10 Unique Helicopters to Fly.
12 different bonuses and 5 missile types!
Over 100(!!!) different units with unique characteristics!
Scores of Weapons and Power-Ups.
Night missions and Weather Patterns.
Stunning 3D Graphics & Shocking Sound Effects.
12 cheat codes are available!
Extraordinarily addictive game play!
4 different cameras, including classic top-down view!
Gorgeous effects, huge Explosions!
Advanced Photo-Realistic 3D landscape!
A leading-edge 3D Graphics Engine featuring:
Advanced particle system(Fire, Water, Smoke, Sparks, etc.)!
Real-time shadows, dynamic color lighting, reflections!
Resolutions from 640x480 to 2048x1800 & 16/32 bit colors!
If you like AirStrike 3D, You'll also like:
---

AirStrike 2

Alien Shooter
Insaniquarium Deluxe