YouTube to DVD Burner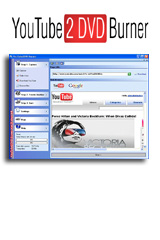 Download, Convert and Burn YouTube Videos

YouTube to DVD Burner is an inexpensive, all-in-one solution that allows you to grab your video from YouTube or other source, convert it into an appropriate format and burn it to a DVD or a Video CD disk. YouTube2DVD Burner includes DVD menu and CD cover builders.
To create a standard CD or DVD disk containing your video or image files, you need to follow several steps. First, you need to grab video from its original source, for example, from YouTubecom, from Google video, etc. Then, you need to convert your materials into a format required by the standard. After that, you may want to create a DVD menu that allows your viewer to select and start media files from the disk. And finally, you need to burn your materials to a CD or DVD disk. Normally, you would use separate programs to complete each of the steps above. YouTube2DVD Burner is an all-in-one solution that allows you to accomplish the whole process within the same application.

Free Download
10.7 MB &nbsp &nbsp

Buy Now
$29.95 USD to buy
YouTube to DVD Burner System Requirements:
Support OS: Windows 7, Windows 2000, Windows XP, Windows Vista.
DirectX9 runtime
Window Media Format runtime
CD-RW or DVD-RW drive
YouTube to DVD Burner Features at a Glance:
Download YouTube video.
Capture video from any video device (DV camera, Web camera, TV tuner, etc.)
Import any video file (AVI, DIVX, XVID, MP4, MPG, WMV, ASF, MOV, etc.)
Burn to any type of media (CD R/RW, DVD+R/RW, DVD-R/RW, DVD DL, etc.)
Intuitive user interface
Slide show of photos
Cover maker (print labels, booklets, etc.)
DVD Menu designer
Direct build from MPEG file (without render)
Advanced settings
Multi-chapters
Free to try, $29.95 to buy
30-day free trial.
Unconditional 30 days money back guarantee.
How to burn YouTube videos to a DVD:
Open Your Youtube Page.
Press 'Download Video'
Press 'Next' Button.
Arrange Menu and Press 'Next' Button
Burn DVD.
Main Screenshot: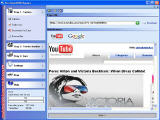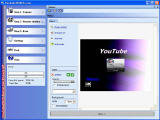 Other Video to DVD Converter Products:
---
Mac Video Converter Convert any video with super fast processing speed.
MP4 Converter Convert Video/DVD to MP4.
Mac HD Video Converter Convert HD video and convert video to HD on Mac OS X.