President Forever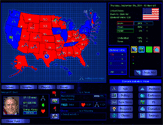 President Forever - 2004. Are you ready to become the most powerful leader in the world?
President Forever is the most in-depth, intense presidential election game ever made. Using realistic electorate modeling techniques, an unprecedented number of options, the ability to plan complex strategies, detailed candidates, and sporting a futuristic interface, this is 2004 big time!
Good campaigning, President-to-Be!
Free Download 4.89 MB Order Full Version $12.00 Add a CD $7.99

System Requirements:
President Forever Screenshots:
Windows 7/Vista/2008/XP
also run on Virtual PC for Macs
300 Mhz Processor
DirectSound-compatible sound card
Direct X 5.0
64MB RAM
12MB free HD space

Click to See Bigger Image
Advanced Features of President Forever:
criss-cross the country doing barn-storming campaigns.
setup detailed platforms to outmaneuver your opponents.
unleash foot soldiers to stop your opponents, or get campaign crusaders to rally voters to your cause.
run attack ads to steal voters leaning towards your opponents.
give a fiery custom-made speech, but remember to prepare for the debates!
craft a detailed electoral strategy to give you a landslide on election day.
2 - 4 players, vs. computer or hotseat.
play with 12 ready-made candidates in 2004 complete with detailed attributes and skills, or make your own!
play 2004, or try a Great Campaign of the Past: 1960 (Nixon-Kennedy), 1980 (Reagan-Carter), or 1992 (Bush-Clinton)!
(Note: a Candidate Editor is included in the full version of President Forever.)





Here is a sample of some of the e-mails we've received from President Forever customers:

"I really enjoy the President Forever game. It is the best campaigning game out there. I love politics and this is the only game that fits right in with my interests."

G. Magnuson
Greenwood, Indiana

"Your President Forever product is absolutely beautiful. As a political consultant, the only politics that I engage in at home is waging your six week campaign. Thanks for an elegant and enjoyable game."

William R. "Bill" Orton
Orange County, California


"Hello,

I ordered Presidential election game and installed it last night, and just want you to know that I love it! I even forgot about dinner, as I was engrossed in a close campaign between Al Gore and George Bush."

Eric Betzold
Chicago, Illinois

"AWESOME

This is a great Presidential election game, I work in politics, and it's fun to play a quick game on a break."

Chris Mays
Sacramento, California

"I recently bought the full copy, and I've been playing it practically nonstop for the last couple of days. As a former congressional campaign manager, I say THANK YOU for putting out such an engrossing game."

James Erwin
Iowa City, Iowa


"Hello,
I purchased your Presidential election game in January and would like to congratulate you on putting out a great product. I have had WAY too much fun with this game for my $12 investment! It is by far the most entertaining and most playable election simulator I have ever seen."

John Buffa
Covington, GA

"Thank you very much. The game gets better and better. I just creamed Nixon in 1960 using myself and my platform as the candidate. I am glad we now have 4 scenarios to choose from. Thanks for all these updates!!!! I wish I were part of the real thing, helping a candidate win, but I'm a teacher, so this is second best."

Loring Ivanick
Tokyo, Japan

"Keep up the great work. I am a huge fan of Presidential election sims and President Forever is by far the finest I have seen!

Regards,

David Haitel"
Edmonton, Alberta
Conservative Party of Canada

"Hi!

I absolutely am addicted to President Forever and the sad part (well not sad, I guess ironic) is that I'm Canadian!"

Darren McEwen
Ottawa, Canada

"Hello!

I am a proud owner of President 2K, and now President Forever. I LOVE the improvements in the sequel, it has been great so far, and worth every penny. Thank you for putting out a game of this type (and including the Libertarian Party)."

Randy Cravens
Newport, AR

"By the way, your Presidential election game is outstanding. I have run political campaigns, and am currently Editor in Chief for an online political journal. I live and breathe this stuff, and your game is by far the most realistic political game I have ever seen, much less played.

Brilliant.

Cordially,"

Seton Motley
Editor in Chief
TexasInsider.org


"Hi, This is a terrific game; one I've always dreamed of. I have spent quite a deal of time playing it. Too much perhaps... I'm happy to say I just recently recorded my first historical rating (78) with JFK no less after I managed to spin a Nixon scandal for nearly the entire campaign, seizing all but 5 states. Not that you care, but I can't really brag to my friends about P4E success."

Ben Laffin
Madison, Wisconsin

"Many thanks. I am thoroughly enjoying beating the living crap out of Bush!!" [Ed. note: we get these sorts of e-mails from both sides]

Richard Paterson
Dorset, UK

"Wow, when I bought PF, I didn't think it would be supported like this. I'm impressed by your commitment to your software, and will continue to support eightydimensional software. Thanks!"

Matthew Woodruff
Wilmington, NC

"Thanks man - I love this Presidential election game. :) Its really well done, only takes 30 minutes to play through a game, and makes a nice break from work."

Joseph Wilbanks
Charleston, SC

"Your game is quickly making me into a complete geek."
Travis
North Carolina