Gutterball 2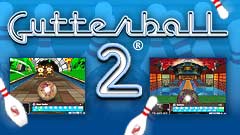 Gutterball 2 Game Description :
Gutterball 2 is the 2nd coming of the original 3d bowling computer game that started it all. With a completely re-tuned, true-to-life physics engine and an amazing new 3D style, it's the bowling experience you've been waiting a lifetime for. Real yet outrageous, clean but not too clean, optimized for fast and not-so-fast computers. Here's to the great sport of bowling, tamed and brought beneath your mouse and onto your desktop. Strike it big!

Download Free Version 14.00 MB

Order Full Version $19.95
Gutterball 2 Screenshots:



Click to See Bigger Image
System Requirements:
Windows 7/Vista/XP
Macintosh: Mac OSX 10.1+
700Mhz, 128MB RAM
DirectX 7.0 or Open GL
12MB free HD space
Advanced Features of Gutterball 2 include:
25 Ball Designs (Or Create Your Own)
5 Stunning 3D Bowling Alleys.
Play with up to 4 Human Players.
Tricky Computer Opponents.
Amazingly Realistic Bowling Physics.
Cool Particle Effects & Weather.
Unlock 10 Balls, 2 Alleys with Your Bowling Skills.
All-new Commentators - 5 Great New Personalities.
Animated characters that are off-the-hook.