We have been a member
of ASP since year 2001.
Audio Editor Pro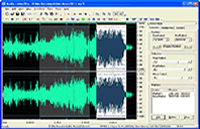 Audio Editor Pro is a visual multifunctional audio files editor which allow you to perform various operations with audio data such as displaying a waveform image of an audio file, filtering, applying various audio effects, format conversion and more. Supports all major audio formats. Audio Editor Pro supports the following file formats:
Waveform audio (PCM wave); MPEG Audio (various layers) to include MP2 and MP3 ; Windows Media Audio ; CD Audio Tracks ; OGG Vorbis Audio ; VOX Dialogic ADPCM ; RAW Audio .

---
Super MP3 Recorder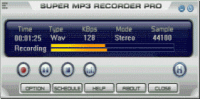 Super Mp3 Recorder has a built-in mp3 editor. It makes a complete recording studio of your computer. With Super Mp3 Recorder you can record your own music, voice or other sound you hear, either voice from microphone, webcasts from the Internet, music played by Winamp, Windows Media Player, Quick Time, Real Player, Flash, games, etc. Sound quality of the recordings remains excellent, or sounds even better for Super Mp3 Recorder reduces noise.