Kasparov Chessmate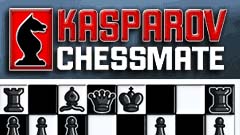 Experience your very own chess adventure in a game that is endorsed by Garry Kasparov. Improve skills and advance your level of play, whether you are a novice or Grandmaster! Enjoy a chess challenge that guarantees fun and learning no matter what your experience level. Kasparov Chessmate is powered by an advanced chess engine that will help you test your mastery and better your game as you play in one of four levels ranging from Very Easy to Hard.

Click Here to Buy Full Version Now $29.95

System Requirements:
Kasparov Chessmate Screenshots:
Windows 7/Vista/XP/2000/NT
Pentium 400 MHz
DirectX 5.0
64 MB of RAM
Video Card: 3D Video Card
Kasparov Chessmate Full Version Features:
Play with Kasparov Chessmate fans worldwide.
Learn using hints from Garry Kasparov.
Hundreds of drills based on historic matches.
Challenge virtual opponents from the Kasparov Chess Club.
Four Difficulty Levels: From Very Easy to Hard.
Challenge Virtual Opponents.
Hints from the Master, Garry Kasparov.
A true chess adventure endorsed by the legendary chess master, Kasparov Chessmate is perfect for players of all ages.