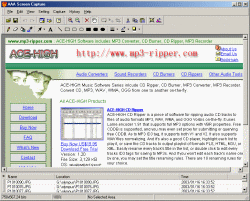 AAA Screen Capture is a powerful and easy-to-use screen capture software to capture full screen (include DirectX mode), windows, objects, rectangle areas of the screen by hotkeys or menu commands. View/Edit the captures in the Image Editor and save them in BMP, JPEG, GIF formats and copy them to the clipboard, automatically or manually. A History List Box displays all the image files saved by this program. You can display, add, remove these files freely and easily. You can also edit the captured image by cropping, resizing and rotating. Draw text description, shapes, arrows and copy, cut, paste.

Operating System: Windows 95, 98, ME, NT, 2000, XP



Buy Now for only US$24.95 Download a FREE trial version


Screen Capture Software Features:



Can Save images in 3 popular formats: BMP/JPG/GIF


Can capture any part of your screen in 10 ways.


Supports mini operations to capture an exact area.


Supports hotkeys. You can define your own hotkeys.


Powerful image editing functions.


Can automatically save captured images.


Copy image to clipboard manually or automatically.


Runs in the system tray area. Supports start minimized.


Auto history records of saving actions.