Wonderland Secret Worlds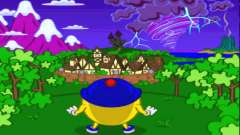 Wonderland Secret Worlds - An exciting new Wonderland adventure!

The unique mix of puzzle solving and arcade/action is back in Wonderland Secret Worlds. A magical storm has blown into Wonderland and swept away the little Stinkers. It is up to you to rescue them. Control Wonderland's four heroes - Stinky, Loof, Qookie, and Peegue - through over a hundred new levels in the diverse worlds of Wonderland. With exciting new features and the same compelling gameplay of previous games, Wonderland Secret Worlds re-introduces you to a world of adventure, mystery, and fun!

Download From Site 1 7.22 MB Download Site 2 7.22 MB Buy Now $19.95

Minimum Requirements:
Wonderland Secret Worlds Screenshots:
Windows 7/Vista/XP/NT/2000
300 MHz Processor
Direct X 7.0 or higher
64 MB RAM
20 MB free HD space

Click to See Bigger Image
Wonderland Secret Worlds Full Version Features:
Explore the world of Wonderland:
Secret Worlds offers over one hundred new levels to explore. Gameplay elements are as varied as rolling boulders, glass prisms, exploding powder-kegs, trigger-happy UFOs, mysterious Rainbow Spirits, and much much more. Each level offers new surprises.
Control up to four Characters:
Stinky and Loof, Wonderland's original heroes, are joined by Qookie and Peegue in their quest through Wonderland Secret Worlds. Together they must face intricate puzzles and unique action challenges.
Find the Secret Worlds and Save the Stinkers:
Secret levels, story book elements, map-screens and more enhance your gameplay experience. Wonderland needs you! Download the Free Demo now and see for yourself why Wonderland has become a player favourite around the globe.
If you like Wonderland Secret Worlds, You'll also like:
---

Snowball Run

Wonderland