Magic Ball 2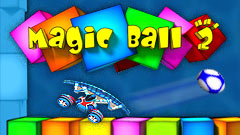 Magic Ball 2 Game Description :

The magic is back! More stunning (and more addictive) than the original, Magic Ball 2 takes brick-busting to a whole new level of fun. With all new designs in amazing 3D for you to smash up brick by brick, plus power-ups, weapons, and animated characters, there are hours and hours of exciting action just waiting for you. Bend your brain and dazzle your senses - again!
Download for PC 7.44 MB Buy Now $19.95

System Requirements:
Magic Ball 2 Screenshots:
Windows 7/Vista/2000/XP
Pentium-600
DirectX 5.0 with compatible video card
64MB RAM
3M Video 3D
Click to See Bigger Image
Magic Ball 2 Full Version Features:
Unlimited Play.
100 Action-Packed Levels with unique 3D graphics.
Amazing Power-Ups and Weapons.
6 types of cute animated characters.
Original power ups and weapons.
Joystick support.
Fireworks, Teleports, Fire and Water block e.t.c.
If you like Magic Ball 2, You'll also like:
---

Snowball Run

Wonderland

Cactus Bruce