Spelvin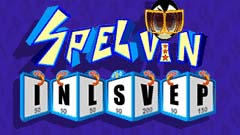 Spelvin is a glittery Vegas-style word game unlike anything you've ever played before. Grab onto your vocabulary and take a Spin to test your smarts. Spell as many words as you can with a random set of 7 letters. Use the Hold buttons, then pull Spin to refresh letters you wish weren't there. Keep the Juice in the tank from running out as you climb the ranks of Spelvin superstardom. Choose "Arcade Mode" and go up against the clock, play "Skill Mode" for a more mental challenge.

Download for PC 4.10 MB Download for Mac OS X Buy Now $19.95

System Requirements:
Spelvin Screenshots (See Bigger Image)
Windows Vista/7/2000/XP
Mac OS X, Macintosh OS 9
500Mhz
64 Mb RAM
16bit Sound Card
Direct X 6.1
Spelvin Full Version Features:
Two Unique Game Modes - Arcade or Skill Game Modes.
Beautiful Full Screen Graphics.
Fun, interactive musical soundtrack.
Wacky and Fun Sounds.
High Score Competitive Rankings.
If you like Spelvin, You'll also like:
---

Bookworm Deluxe