ImTOO PSP Video Converter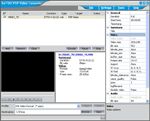 PSP MP4 Converter - Convert Video AVI MPEG to PSP MP4.
ImTOO PSP MP4 Converter is a powerful video converter for your sony psp, You can use it to convert all video to PSP video MP4, such as AVI to PSP (avi to mp4), and convert MPEG to PSP (mpeg to mp4). ImTOO PSP Converter supports converting video file format including VCD, AVI, WMV, MP4, MOV, animated GIF, RM, ASF, 3GP to PSP video and audio file formats like WMA, OGG, AAC, WAV, AC3, M4A to PSP MP3. This primary function of the PSP MP4 Converter is to convert video file to MP4 and MP3 which can be played in your sony PSP. At present, PSP Video Manger has been added into ImTOO PSP Video Converter, with which you could input the files directly into your PSP player.

ImTOO PSP Video MP4 Converter is a very easy to use video and audio converter. The software makes the process of converting so many formats a breeze by automating all the tasks and giving you the best quality.

No program supports so comprehensive video and audio formats including MP4, AVI, MPEG, GIF, Flash, WMV, WMA, DVD, VCD, MP3, MP4, WAV, M4A, OGG, AAC etc. like ImTOO PSP MP4 Converter by building in lots of codecs.



Download from Site 1

Download from Site 2

Buy Full Version Price: $29.00
ImTOO PSP Video Converter Product Information:
Current version: 2.1.47
License: Free to Try
File Size: 2.88 MB
Software Requirement: Windows 98, ME, NT, 2000, XP, 2003
ImTOO PSP Video Converter software run on PC (Windows 98/ME/NT/2000/XP) to convert video into Sony PSP movie/video format (*.MP4). (No Mac OS version has been planed yet)
ImTOO PSP Video Converter Features :
Convert AVI to MP4.
ImTOO PSP Video Converter is a AVI to MP4 converter. can convert AVI to MP4. The software supports a lot of video and audio codec, such as MPEG4, WMV, WMA, WAV and MP3.
Convert MPEG to MP4.
You can use PSP Video Converter to convert MPEG to MP4 file. A lot of settings you can tweak to achieve best audio quality.
Convert WMV, MOV, RM, ASF, 3GP to MP4.
Support convert all popular video to PSP video MP4, such as WMV, MOV, animated GIF, RM, ASF, 3GP to PSP video.
Convert WMA, OGG, AAC, M4A, WAV, AC3 to PSP MP3.
can also convert most audio file such as converting m4a to mp3, converting wav to mp3 and convert aac to mp3 and so on.
Supports batch conversion.
Supports preview.
Converts any clip or segment.
Adjustable video size and frame rate.
All encoders/codecs are built-in.
Supported file format:
Video:
MP4, MPEG (mpg, mpeg, dat, vob); WMV; ASF; AVI; 3GP; DV (dv, dif); QuichTime (mov, qt); MPEG4 (mp4); Real Video(rm); Animated GIF (gif - decoding only); Macromedia Flash (swf - decoding audio only);

Audio:
MP3, MPEG Audio (mp2, mp3); MPEG4 Audio (m4a); WMA; WAV; AU; Real Audio(ra); OGG; AAC; Raw AC3(ac3); NUT Open Container Format(nut);


Other Sony PSP Converter Software.

Sony PSP Movie Creator
A powerful PSP conversion tool which can convert sony PSP video in one click. convert AVI to PSP, WMV to PSP, DivX to PSP, XviD to PSP, DV to PSP, MPEG to PSP.

Xilisoft PSP Video Converter
A powerful Sony PSP Converter which can helps you convert video to Sony PSP movie mp4 format, which is capable of converting almost all popular video such as convert avi to psp, mpeg to psp.