Smugglers 3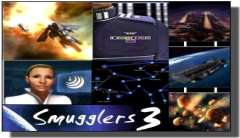 In the third part of the award winning Smugglers series you can play a greedy trader, an ambitious bounty hunter, a ruthless pirate, a mix of those or one of many other professions. Backed up by a crew of different kinds of crewmen (like droids or mercenaries) you can visit more than 75 planets in 25 systems in your attempt to gain favors with one of the four factions in the known galaxy. You can be promoted, receive medals and campaign ribbons, and upgrade one of the 19 available ships from a great set of different equipment parts. It will be necessary to engage in space and crew combat against the four different factions in the game and even to conquer whole planets.
Download Free Version 9.80 MB Order Full Version $19.95

System Requirements:
Smugglers 3 Screenshots:
Windows 7/Vista/2008/2000/XP
300 Mhz Processor
Direct X 5.0
64MB RAM
12MB free HD space

Click to See Bigger Image
Features of Smugglers 3 include:
25 star systems with over 75 planets! Visit your favorite planets or discover some new systems. New and beautiful planet art.
Work with or against four different factions all with completetly different uniforms and medals (depending on your success you can pin rank signs, ribbons and medals on your proud chest).
You influence the course of war! Its up to you to capture entire sectors through brute strength or cunning strategy.
New music track, background music/sounds in the game, Sounds FX.
Find secret locations on the map (like hidden treasures, spy ships, VIP traders, alien artefacts...).
If you like Smugglers 3, You'll also like:
---

President Forever

Saly