Prime Minister Forever - Canada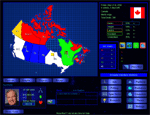 Prime Mininster Forever (Canadian Version) is an in-depth, intense simulation of the Canadian election.
Prime Minister Forever is the most in-depth, intense parliamentary election game ever made. Using realistic electorate modeling techniques, an unprecedented number of options, the ability to plan complex strategies, detailed candidates, and sporting a futuristic interface, this is Canada 2004 big time!
Good campaigning, President-to-Be!
Download Free Version 5.62 MB Order Full Version $11.99

System Requirements:
Prime Minister Forever Screenshots:
Windows 7/Vista/2008/2000/Me/xp
also run on Virtual PC for Macs
300 Mhz Processor
Direct X 5.0
32MB RAM
12MB free HD space

Click to See Bigger Image
Prime Minister Forever Full Version Features:
Strategize by province and target individual ridings.
Criss-cross the country doing barn-storming campaigns.
Run attack ads to steal voters leaning towards your opponents.
Give a fiery custom-made speech, but remember to prepare for the debates!
Setup detailed platforms to outmaneuver your opponents.
Unleash foot soldiers to stop your opponents, or get campaign crusaders to rally voters to your cause.
2 - 4 players, vs. computer or hotseat.
Play any of the 4 major parties: Liberal, Conservative, NDP, or Bloc Quebecois.
(Note: a Candidate Editor is included in the full version of Prime Minister Forever. Modify candidates, or insert yourself and run for PM!)