Tennis Titans Game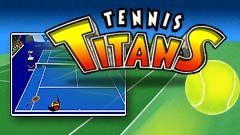 Tennis Titans Game Description :
Hit the courts for wild and wacky tennis fun from the developers of Gutterball 2 and Varmintz! Featuring simple, easy-to-learn hitting and aiming, Tennis Titans brings together a crazy crew of colorful cartoon characters who all want the same thing - to be Court Champion. Plus, two great game modes means there's more ways to win! Charming, delightful, and beautifully rendered, Tennis Titans is a challenging treat for the entire family.

Tennis Titans. This game is compatible with Apple Macintosh, iMac, Mac, OSX, Powerbook,ibook, G5, and most Apple computer platforms.
Mouse controls for easy hitting and aiming!
Pleasant music that blends with each court
Two tennis modes: Play against an oppenent or collect rings
7 fun 3D characters with plenty of personality
4 captivating courts to choose from!
Unlock Exhibition mode to play anyone, anywhere!