Emperor's MahJong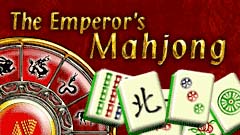 Emperor's MahJong Description :
Remove tiles and collect valuable bits of wisdom in this excitingly unique game. For 2,000 years MahJong has delighted and entertained gamers around the globe. Now, it can be your key to enlightenment. Play a quick one or two player game, or take the Emperor's Challenge where your reward is wisdom and the chance to become an Emperor yourself. MahJong players will love this colorfully transcendental hit.
Download Free Version 7.60 MB Buy Full Version Now $19.95

System Requirements:
Emperor's MahJong Screenshots:
Windows XP/2000/Vista/7
Pentium 266 MHz
64 MB RAM
DirectSound compatible sound card

Click to See Bigger Image
Emperor's MahJong Full Version Features:
3 different game modes, 3 different levels of difficulty.
72 different beautiful color layouts, grouped into 6 different themes.
Create and Share Your Own Intriguing Layouts.
Compare scores with other players
Stunning Graphics and Music.
If you like Emperor's MahJong, You'll also like:
---
NingPo MahJong

MahJong Adventures for Mac