Email Search Crawler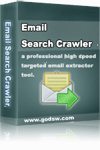 Email Search Crawler is a quick and efficient targeted Email Search software that searches the Internet or your computer for E-mail addresses to enable create mass Email lists. It can find both targeted and untargeted emails, from specific countries and Web sites that you specify. It's easy to use and has the ability to extract emails from a file on your computer, or by getting sites from a search engine, or by spidering a list of URL's which you give it.

Email Search Crawler Automatically search websites for emails. Simply provide a starting web site or starting keywords and let Email Search Crawler do the rest. Email Search Crawler will crawl the web site and collect all email addresses it finds. Specify the web sites you want to visit to allow Email Search Crawler to stay on top of your goal or block web sites you don't want it to visit. Merge email addresses from multiple source files, removing duplicates. Export email addresses gathered using the most suitable delimiter.

You can start a search from any user specific Web address URL too. It does not depend upon any additional software the way that many email extractors depend on Internet Explorer. It can crawl Web pages and move from one page to another according to the links within it. All Email addresses are kept in a database and can be extracted to a text file.


Free Download
1.79 MB &nbsp &nbsp

Buy Now
$59.95 to buy
Email Search Crawler System Requirements:
Support OS: Windows 7, Windows 2008, Windows XP and Windows Vista;
1000MHz Intel or AMD CPU, or above;
256 MB RAM or more;
Email Search Crawler Features:
Defeats "email protection" scripts that attempt to hide email addresses from email spiders!
Fully automated email and website harvesting!
Extract emails from a starting web site
Spider web to find e-mail from any specified start website (URL).
Scans up to 10 webpages simultaneously! web connections after 10 seconds and moves on to the next website!
Database integration for easy sorting, exporting, and protecting your data!
Automatically prevents collection of duplicate emails!
Automated searching lets you enter multiple search terms and automatically skip to the next search after a specified number of websites have been scanned!
Displays statistics of all pages scanned, websites found, and emails found!
Stop and Resume scanning with the click of a button, you can even resume after shutting down the program!
Auto-Saves all emails, websites, statistics and settings! Never lose data, even if your computer crashes!
Runs indefinitely with no user interaction.
Low memory use means you can let the spider run while minimized and not interfere with your other applications!
How to Search Email Address from a Target Website?

Have you ever been in the situation of searching an email address in a website and got lost in dozens of inter-linked web pages? This Email Search software can help you at such time. Using it you can easily harvest the email addresses from your target website.

Step-by-step how to search email address from a target website:

Step 1: free download Email Search Crawler and install in on your computer.

Step 2: Launch this Email Search Crawler, the interface will be displayed as follows: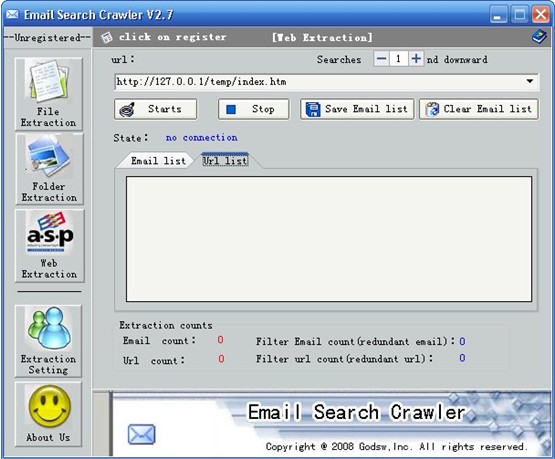 Step 3: There are four ways for you to search for the email addresses:
File Extraction - By clicking on the "Starts" button. (The system will require you to select a file to be extracted).



Folder Extraction - By clicking on the "Starts" button (The system will require you to select a target folder to be extracted.)



Web Extraction - Input in the url textbox the website URL that you want to search, then clicking on the "Starts" button.




Url List Web Extraction - Click on the "Load Url List" button to load the Url list to be searched,
the click on the "Starts" button.




Step 4: Save the email address You can save the email or website address by clicking on the "ave Email List" and select the location and name of the output files.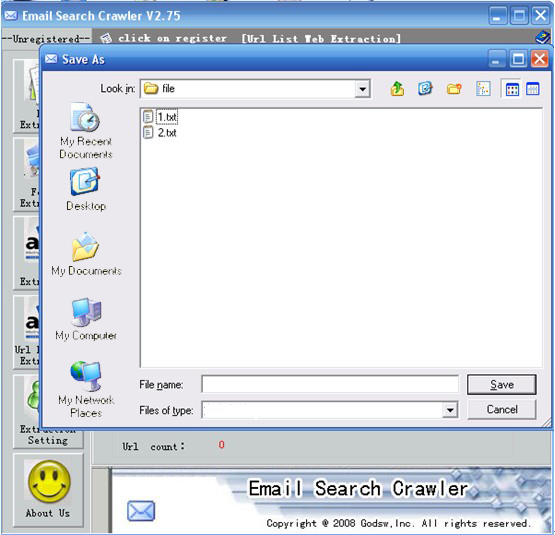 Now the email addresses contained in the target website, or folders in your local disk have been successfully extracted and saved to your computer.