Price: US$39.95



Order Now
Frequently Asked Questions
What's New?
Supported Systems

Windows 95


Windows 98


Windows ME


Windows NT


Windows 2000


Windows XP

2nd Speech Center - Text to Speech Software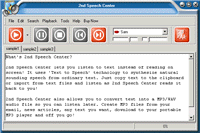 This software reads text words to you with different voices you may choose. The text words may be on the screen, in the clipboard, from a text file or other source. It also supports converting text to audio formats mp3 or wav for special using. It uses 'Text to Speech' technology to synthesize natural sounding speech from ordinary text. Just copy text to the clipboard or import from text files and this software will reads the text to you or convert the text to mp3 or wav file! 2nd Speech Center also allows you to convert text into a MP3/WAV audio file so you can listen later. Create MP3 files from your email, news articles, any text you want, download to your portable MP3 player and off you go! Click HERE to see the screenshot.




Buy Now for ONLY US$ 39.95



Download a FREE trial version


Now, new version 1.30 was released! What's New in Version 1.30? + Allows to add Control Tags to improve the prosody of text-to-speech translation.
+ The "Key To Speech" feature added for special purpose.
+ A pronunciation manager added. It allows users to edit the phonetics of mispronounced words and load or unload personal exception dictionaries.
+ Alarm & Reminders.
+ Allows to adjust the speed.
+ Allows to accept txt file(s) draged from windows explorer.
+ Allows to modify hotkeys even GLOBAL hotkeys!
+ Powerful command lines!
And Much More ...

Key Features:
---

Configurable Clipboard Options - You decide how IISC behaves when your computer's clipboard changes.



Alarm & Reminders - Just as a alarm clock, IISC can announce time to you every special interval depend on your settings. And IISC also maintains a reminders list to remind you of your important business.



Configurable GLOBAL Hotkeys - IISC allows you to define your favorite GLOBAL hotkeys to control IISC even in other program. This feature is very useful for weak-eyed users.



Optional MP3 Quality - The "Output Sample Frequencies" and "Output Bitrates" options allow you to make a choice between the quality and the size.

Powerful Command Lines - As a advanced user, you can use the command lines of IISC to do you want to do!


Multiple Output Modes - Output synthesized speech either to your speakers or to audio files. Choose between WAV and MP3 audio file formats.

Support Multiple Languages/Engines - Including English, Spanish, British English, Dutch, French, German, Italian, Portuguese, etc.