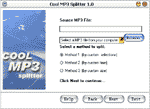 Cool MP3 Splitter
COOL MP3 Splitter splits a MP3 file into two or more smaller MP3 files easily and quickly. It is an useful tool for cutting a large MP3 song to several sections for special usage such as radio shows, concerts, trance mixes,etc. It is especially useful for creating audio CDs. You can use three methods to split : by section, by time or by size. Furthermore, multi-thread technology is used in COOL MP3 Splitter to ensure a high performance.

Now New version 1.21 was released! Download it.



Buy Now

Download 1

Download 2


If you can not buy from the above link, you may also click here for ordering it from ShareIt, which supports the following payment options,


Payment Options include,

---

* Credit Card
* Switch/Solo
* Bank/Wire Transfer
* Check
* Cash
Payment currency may be,

---

* US Dollar
* Euro
* Pound Sterling
* Japanese Yen
* Australian Dollar
* Canadian Dollar
* Swiss Franc

System Requirements:
---
Pentium CPU or higher, 8M Memory.
Windows 95/98/ME/NT/2000/XP.
Key Features:
---
Split MP3 file
Split a larger MP3 file to two or more smaller mp3 files. It supports splitting by selections, time or size.

Multi-thread technology is used
High performance is provided with multi-thread technology.

Low system requirements
Only a pentinum CPU and 8M memory are needed to run it. The setup package is only 965 KB.

Easy to use
Install the software on your computer and you will know how to use it after 1 minute.

All 32-bit Windows system compatiable
It works on Windows 95/98/NT/2K/ME/XP.
Our Awards:
---
| | | | |
| --- | --- | --- | --- |
| Rated 5 on Yippee.com | 4 Cows on TUCOWS.COM | 4 Stars on ZDNet.com | 4 Mouthes on RocketDownload |