MP3 CD Ripper
Convert CD to MP3 , CD to MP3 Converter Software
---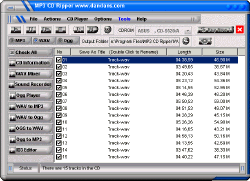 MP3 CD Ripper

Are you thinking of converting your favorite CDs into MP3? Have you been searching for such a powerful tool? Just try MP3 CD Ripper right now! Put your CD into CDROM and click, everything is OK!

MP3 CD Ripper makes digital copies from audio CDs directly and saves them as MP3 or WAV. It also has a CD Player at the same time and can support multi-CDROM device. MP3 CD Ripper can download disc information from the CDDB (Internet Compact Disc Database).

MP3 CD Ripper is very easy to use and has a cool layout. Just click on a button and the CDs will be ripped.

MP3 CD Ripper supports CDDB(Internet Compact Disc Database), the biggest free online CD information, by which you can get the CD album, artist, track titles and much more CD information from Internet.



Download Free Trial Buy Registration Code ($19.95)


Limitation:
The trial version will only allow you to check the first 5 tracks. In order to remove the limitation, you must purchase MP3 CD Ripper. It's one-time registration fee for lifely using, free to upgrade, free for technical support, and much more other free values ...

We are sure that you will love MP3 CD Ripper absolutely.

System Requirements:
1. Windows95/98/Me/NT/2000/XP

2. CD-ROM connected to IDE or SCSI (Not all SCSI drives are supported yet).

3. A CD-ROM drive that can read digital music (Many newer CD-ROMs can do it very well, unfortunately most older CD-ROM drives do not support digital extract at all).

4. Sound card

5. Enough free hard disk space to store output WAV or MP3.

MP3 CD Ripper converts audio CDs to MP3,OGG or WAV directly . It also has many cool tools such as :

For any questions/problems, please click here to send an email to us. We will reply to you within 24 hours.

The following software may also of your insteresting ...
---
Audio Converter - converts audio formats MP3, WAV, WMA, OGG, VQF from one to another
CD Ripper - extracts CD tracks to hard disk file MP3, WAV, WMA, OGG, VQF
Easy Icon Maker - software for editing/designing icons of all sizes, colors.
Easy MP3 Recorder - record any sound from your computer to mp3 or wav directly
Tracks Eraser - erases all tracks from your computer to protect your privacy
Audio MP3 to CD Burner - burns your MP3 or WAV favorites to CD audio
ScreenSaverMaker - creates slideshow screensavers with your pictures and music

---