We have been a member
of ASP since year 2001.
VinylStudio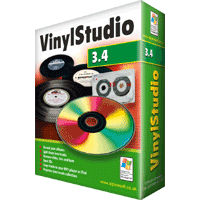 VinylStudio makes it easy to transfer your vinyl albums and cassette tapes to CD and MP3.
VinylStudio is LP (and tape) to CD and MP3 Conversion Software purpose-built to digitize records and tapes.
It enables you to convert your old vinyl records or cassette tapes into digital files and burn them to CD or copy them to your portable player. VinylStudio has all the features you need to digitize your vinyl albums and cassette tapes: it records, splits recordings into tracks, cleans up your recordings, burns CDs and copies tracks to your MP3 player or iPod. It can also look up track listings on the Internet. VinylStudio includes all the tools you need to record the audio, split the recording into individual tracks and create CD compilations from your recording, with integrated CD burning on Windows XP and Vista. Other features include ID3 tagging, playlist generation, WAV-MP3 MP3-WAV conversions and more.

VinylStudio can handle vinyl albums, tapes, 78s and singles, all with equal facility. Support for collections of singles (and spoken word cassettes) was added in VinylStudio 4.


---
What can this LP (and tape) to CD and MP3 Conversion Software do?
record your LPs and tapes
copy tracks to your MP3 player or iPod
remove clicks, hiss, hum and more
split them into tracks
look up track listings over the Internet
burn both audio and MP3 CDs and DVDs
organise your music collection
Features Highlights:
All-in-one solution for digitizing your vinyl or tape collection
Automated click and scratch removal
Filters out tape hiss, hum and rumble
Looks up track listings over the Internet - no typing!
Burns both audio and MP3 CDs
Multi-level undo/redo
Uses less than half the disk space of most competing programs
Presets for your favourite audio cleanup settings
Support for compilation albums
upport for higher sample rates and bit depths
Why Choose VinylStudio?
Ease of use: VinylStudio is quick to learn and easy to use. 'Rollovers' provide handy cues for new users, while shortcut keys speed things up as you gain experience.
And most operations in VinylStudio can be undone (and redone), making VinylStudio a productive and forgiving working environment. Moved a trackbreak by accident? No problem, just click undo.


Powerful tools: VinylStudio's audio cleanup tools are not just a toy. They are extremely effective at removing clicks and scratches from your recordings. VinylStudio also has a complete set of noise reduction filters.
And if any of your recordings are in really bad shape, you might appreciate our unique Patch feature, which can repair damage that other programs simply cannot touch.


Convenience: Unlike most similar programs, VinylStudio does not expect you to keep track of your recordings manually. Instead, it stores them in a collection, organised by artist and album title.
This means that your recordings are always on hand should you ever need them. And if you need to copy some tracks across to your MP3 player, they're just a couple of mouse-clicks away.
Screenshot of VinylStudio: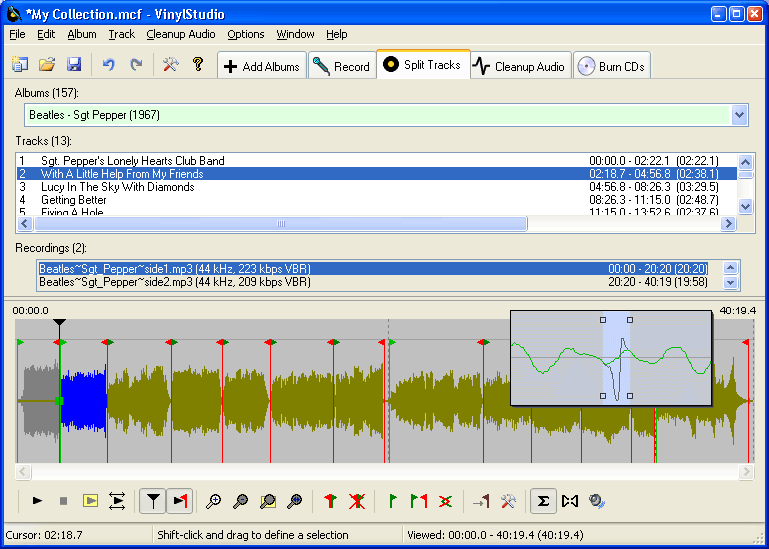 System Requirements:
Windows 7/Vista/NT/2000/XP
Intel Pentium CPU 300MHz or higher
64 MB RAM
100 MB free hard disk space. Sound Card & Sound Box