We have been a member
of ASP since year 2001.
VDrumLib for Windows 2.1.12
VDrumLib allows you to make custom drum kit libraries for your Roland VDrum module. The same simple user interface is employed for all of the following Roland VDrum modules:
TD-6, TD-8, TD-10, TD-10EXP, TD-12, and TD-20.

VDrumLib makes it easy to copy, combine, rename, and rearrange your own kits with those from VExpressions Ltd, all without fear of overwriting your personal trigger settings, user patterns, output routings, etc. You can even transfer the libraries to your module with the built-in MIDI transfer software. TD-20 users have the additional ability to transfer kits via the Compact Flash Card slot.
VDrumLib is FREE to trial, $19.95 to buy.
Purchasing a license entitles you to free updates for life.



---
Screenshot of VDrumLib: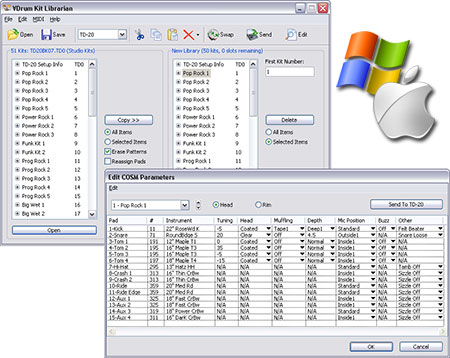 System Requirements:
Windows 7, 2000, XP or Vista
Intel Pentium CPU 300MHz or higher
64 MB RAM
100 MB free hard disk space. Sound Card & Sound Box

Installing VDrumLib:
1.Click on the above link and save it to your desired directory
2. Double-click the VDrumLib installer icon.
3. Follow the onscreen instructions.