We have been a member
of ASP since year 2001.
Spy Sweeper - Spyware Sweeper
When it comes to removing spyware, Spy Sweeper is second to none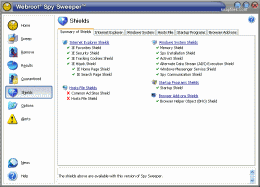 Spy Sweeper is the award-winning software that protects your PC from spyware. Advanced detection and removal capabilities wipe out existing spyware and cutting-edge Smart Shields block new spyware installations, helping you retake control of your computer and prevent future infections.

Trusted by millions around the world to protect their PCs, Spy Sweeper features an easy-to-use interface that makes defeating spyware simple and painless. Customizable options give you the convenience and control you want, including which program files and folders to scan, how frequently Spyware Sweeper should scan your system, and when those scans should take place. With Spy Sweeper, all users on a single PC get the full protection of the software. All users can customize Spy Sweeper for their individual use, providing maximum protection with ultimate control.

Once spyware is detected, the quarantine feature allows users to easily manage spyware by safely removing it without harming other programs on the PC. Spy Sweeper will now not only remove adware programs, but take clean-up one step further by wiping away any lingering effects left behind such as desktop shortcuts and Start Menu icons.

Spy Sweeper continuously protects you with minimal disruption by operating silently in the background and updating threat definitions automatically to defend against new threats, giving you peace of mind to safely surf the Web.

For advanced protection, Smart Shields constantly guard your browser and operating system, stopping spyware in its tracks. With a dozen shields, including the new ADS shield, Spy Sweeper prevents spyware installations instantly.

Spy Sweeper successfully roots out all types of spyware, adware, keyloggers, system monitors, Trojan horses, cookies, and more.


---
What can happen without Spy Sweeper?
Persistent and numerous pop-up ads
Unexplained changes to homepage settings
Sluggish PC performance
Frequent computer crashes
Exposure of private information, user names or passwords
Identity theft
Spy Sweeper Key Benefits:
Comprehensive Removal Technology
Using new patent-pending removal technology, Spy Sweeper effectively disables the most sophisticated and debilitating spyware programs, including threats that employ "rootkit" technology to evade detection and removal and continue wreaking havoc with your PC.

This advanced and highly effective technology saves you time and effort by removing even the most vicious spyware threats in one sweep.


Advanced Detection Techniques
Spy Sweeper uses FlexDef technology to identify and defeat emerging spyware threats without having a direct match to an existing spyware definition or signature. Using this technology, Spy Sweeper is able to dynamically defend against threats as they emerge.


Smart Shield Protection
More than a dozen Smart Shields provide the most advanced proactive spyware protection by blocking attempted spyware installations before they happen so your system stays free from spyware's damaging effects.


Accurate Risk Assessment
Detected spyware programs are rated by risk level to help you understand the danger that each spyware threat poses to your security. Plus, Spy Sweeper gives you a quick overview of each threat, what it does, and its potential danger.


Continuous Security Updates
Spyware programs morph frequently. Spy Sweeper keeps you protected against these threats with frequent and automated updates to its definition database.


Multiple User Protection
When you buy Spy Sweeper for your computer, its protection covers all users on that PC. Spy Sweeper is managed by a primary user, but all users can customize Spy Sweeper for their individual use, combining maximum protection with ultimate flexibility.


Protection Made Easy
Spy Sweeper continues to earn wide-spread acclaim for its user-friendly interface and usability. With an easy-to-use console and customizable options, Spy Sweeper makes defeating spyware a breeze.


Up-to-date News & Information
Webroot regularly provides essential information about spyware - right within your Spy Sweeper application. You can stay informed about the latest online threats.


Free Software Updates
Spy Sweeper is frequently updated to provide you with the most advanced and effective spyware protection. As a Spy Sweeper customer, you receive these updates to our software absolutely FREE.


Expert Customer Support
Spy Sweeper is backed by knowledgeable and friendly customer support technicians to help you through even the toughest spyware problems. Unlike many of our competitors, we offer this online and phone support absolutely FREE.


Satisfaction Guarantee
Webroot always stands behind its products, which is why all of our products are backed by a 30-day money-back guarantee. No questions asked.

System Requirements:
Windows 7, Vista, 2000 or XP
300 Mhz processor
25 MB hard drive space
128 MB RAM
Supports Internet Explorer


Using fast, smart and powerful protection against spyware, adware, and other unwanted programs, Spy Sweeper offers the most comprehensive coverage available. It's no wonder Kim recommends Spy Sweeper!


"Thank you for spyware sweeper. I tried all the other solutions but none was effective. Since I have installed your program, I have won the spyware and adware battle. Great job."
- I.H., Spy Sweeper customer

"Spyware Sweeper is the very good choice for protecting yourself and your PC from spyware. I use it and recommend it."
- Kim Komando

"The other spyware tools were fine at identifying spyware but only Spy Sweeper was able to remove the infection."
- A.M., Seattle, WA

"I have tried various other free products to remove and protect against spyware and adware, but none of them work as quickly and effectively as Spy Sweeper!"
-R.L., Apple Valley, MN