We have been a member
of ASP since year 2001.
WinAVI Video Converter
WinAVI Video Converter is the fastest video convert solution in the world. It is also a ALL-IN-ONE solution for video file converting and burning.
WinAVI Video Converter supports converting:
AVI to DVD, MPEG, VCD, MPG
All video format to DVD/VCD/SVCD/MPEG
All video format to AVI/WMV/RM
Flash SWF convert
Quicktime MOV convert
DirectAC3 technology, supports AC3 5.1 Only in world
Burning vcd/svcd/dvd
---
AVI WMV MPEG Converter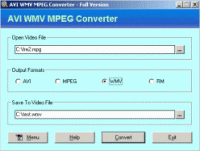 AVI WMV MPEG Converter is a video converter software for convert AVI, MPEG, WMV from one format to another.
Convert WMV to MPEG-1, MPEG-2, AVI, WMV, RM
Convert AVI to WMV, AVI, MPEG-1, MPEG-2, RM.
Convert MPEG to WMV, AVI, MPEG-1, MPEG-2, RM
WMV stands for Windows Media Video, and RM stands for Real Media. AVI WMV MPEG Converter supports converting MPEG-1 and MPEG-2.

---
ImTOO MPEG Encoder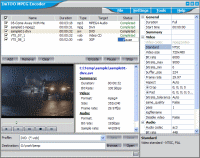 ImTOO MPEG Encoder is a powerful avi mpeg dvd converter which can convert AVI to DVD, MPEG to DVD, AVI to MPEG. ImTOO MPEG Encoder support converting most video file format including DVD, VOB, VCD, AVI, MPEG, WMV, MP4, MOV, 3GP, animated GIF, RM, ASF and audio file formats like MP3, WMA, OGG, AAC, M4A, WAV, AC3 and so on. It can also convert audio file or extract audio from video file. For example, convert ac3 to wav, avi to mp3, mp4 to mp3 etc. ImTOO MPEG Encoder is an extremely easy to use video and audio formats converter. The software makes the process of converting so many formats a breeze by automating all the tasks and giving you the best quality. No program supports so comprehensive video and audio files including DVD, VCD, AVI, MPEG, GIF, Flash, WMV, WMA, WAV, MP3, MP4, M4A, OGG, AAC etc. like ImTOO MPEG Encoder by building in lots of codecs.

---
Easy Real Converter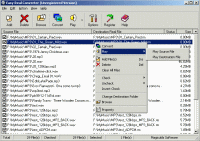 Easy Real Converter is a tool that lets you convert the most common audio and video files (see specifications for details) into RealMedia formats. RealMedia format is one of the most popular streaming media format, Easy Real converter can convert AVI, MPEG-1, MP3, WAV, MP2 or Quick Time files into RealMedia Files. with a simple and very easy-to-use interface, and customizable settings, Easy Real Converter is perfect for either novice or advanced content creators.
Convert MP2, MP3, WAV, AVI, MPEG-1, MPEG-2 to RM
Convert Quick Time (.mov,.qt) files to RealMedia format (.ram or .rm or .ra)
Split a RM to pieces
Join several RM files into one.
Edit information of RealMedia file
---
Real Converter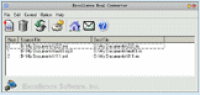 Real Converter is designed to for converting other media foramts to real audio or real video formats. If you are looking for a converter to convert AVI, MPEG-1, MP3, WAV, MP2 and Quick Time to RM (Real Media Files), this software is exactly what you are looking for, Real Converter can convert these formats to RM: AVI, MPEG-1, MP3, WAV, etc.