We have been a member
of ASP since year 2001.
dvdSanta
dvdSanta is an All-in-One software that lets you create, convert Copy and burn your DVD movies. It can copy 9GB double layer DVD movies into a 4.7GB DVD-R disc, can turn your photos into DVD movies with Hollywood style motion effects, can convert other video formats(avi, wmv, vob, asf, DivX, Mpeg,...) into DVD video, can transfer miniDV camcorder tapes directly to DVD video. dvdSanta is extremely easy to use, fast and powerful.
---
WinAVI Video Converter
WinAVI Video Converter is the fastest video convert solution in the world. It is also a ALL-IN-ONE solution for video file converting and burning.
WinAVI Video Converter supports converting:
AVI to DVD, MPEG, VCD, MPG
All video format to DVD/VCD/SVCD/MPEG
All video format to AVI/WMV/RM
Flash SWF convert
Quicktime MOV convert
DirectAC3 technology, supports AC3 5.1 Only in world
Burning vcd/svcd/dvd
---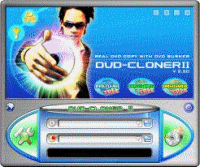 DVD Cloner II is the best DVD Cloner software available on the Internet. Copy your DVD movie to DVD R/RW easily. Support most of popular DVD R/RW writers. With this software, you can get your DVD backup in 2 hours. Comparing with its competitors, it seems that this DVD CLONER software supports more DVD Drivers and advocates faster speed.

---
Super DVD Creator
Super DVD Creator was designed to convert your AVI/DivX/Xvid/Mpeg/RmWmv /ASF/Mov files to VCD/SVCD or DVD. You can use this software to create VCD/DVD from your digital video recorder, Webcam, or downloaded AVI/DivX/Xvid/Mpeg/Rm/Wmv /ASF/Mov files. It comes complete with numerous customizable video/audio controls that can deliver the highest quality viewing and listening experience. As well, Super DVD Creator offers feature-rich navigation controls, for a more interactive and tailored DVD experience. Super DVD Creator is guaranteed to deliver the highest quality and personalized DVD/VCD/SVCD Creating experience possible on the PC today!