We have been a member
of ASP since year 2001.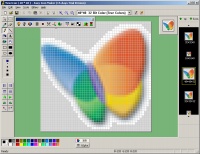 Click to Enlarge

Easy Icon Maker is a small and easy-to-use all-in-one icon utility for icon making, editing, changing, extracting, searching, and exploring.

It allows you editing a transparent or opaque icon. The sizes may be 16 X 16, 32 X 32, 48 X 48, 64 X 64 or custom it as you like. The colors may be Monochrome(1 bit), 16 colors(4 bits), 256 colors(8 bits), true colors(24 bits), or true colors + alpha channel(32 bits).

With Easy Icon Maker, you may edit your own professional icons easily and quickly with the built-in editor. You may also extract an icon from an EXE or DLL file. You may import graphic file such as BMP, JPG or GIF and save it into icon file or export icon file to graphic file.

A capture button allows you capturing any area on the screen to the editor for editing. Filters functions allow you processing the icon with special effects such as lighten, soften, darken, lighten, blur, emboss, and more.

This version includes four enhanced icon tools, they are Icon Changer , Icon Searcher , Icon Extractor , and Icon Explorer .
New Features added in version 5.0
Fixed an important bug of 32-bit Alpha Channel.


Improved interfaces.


New Features added in version 4.0
True colors (32-bit) with Alpha channels added.

Edit in RGB and Alpha mode.

Change the order of an icon format in the file.

Added toolbar for filters for easy work.

Added features "Rotate", "Flip", and "Move"

Open several instances of Easy Icon Maker at the same time, and copy data from one to another.


Icon Explorer was added for exploring icons from files and applications.


Download Easy Icon Maker 5.0
(File Size: 1,602 KB)
Key Features include:
Support sizes 16 X 16, 32 X 32, 48 X 48, 64 X 64, and user custom


Support Monochrome (1 bit), 16 colors (4 bits), 256 colors (8 .bits), true color (24 bits), and true colors + alpha channel (32 bits)


Support capturing an icon area from screen


Fast, small and easy-to-use


Windows XP Compatible


Extract icon from DLL/EXE files


Icon Searcher Tool - Search Icons from your computer files


Icon Changer Tool - change binary file's icons (EXE, OCX, DLL, SCR, ...)


Import from or Export to graphic files BMP, JPG, GIF