We have been a member
of ASP since year 2001.
MP3 CD Converter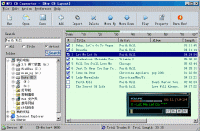 MP3 CD Converter is a CD-Burning software that can create conventional Audio CD from your downloaded MP3 collections. The customized Audio CD can be played on your home Hi-Fi or car CD player. What's more! MP3 CD Converter can grab audio CD from several different CDs and burn into one disk, so you can enjoy your most favorite CD tracks without changing discs. No sound quality lost and quite easy! What you hear is what you get! With a pretty built-in mini-player, you can test the tracks before burning, which ensures that good quality tracks are burned into the CD-R.
---
Avantrix CD-DVD Writer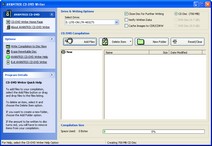 With AVANTRIX CD-DVD Writer, creating data CD's or data DVD's couldn't be any easier. This easy to use and flexible CD/DVD writing application allows you to quickly add files to burn to CD or DVD and burn your new disc in a snap! If you've ever been overwhelmed by a ton of features in other CD/DVD writing applications, then AVANTRIX CD-DVD Writer is for you.
---
Acoustica MP3 CD Burner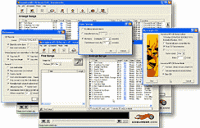 SEARCH...CLICK and BURN! Use Acoustica MP3 CD Burner to burn custom music CDs from your favorite MP3s! Use it to burn custom compilations of your favorite tunes and play them back in your car or home CD player! It cross-fades tracks, auto volume normalizes, auto trims silence and even detects incomplete downloads! Features an easy find interface to find and import your downloaded and 'ripped' mp3s! With this software you can effortlessly rip your personal CDs, retag your songs and burn music CDs with a click.
---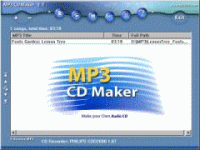 MP3 CD Maker
MP3 CD Maker is the most popular software for converting MP3 to Audio CD. MP3 CD Maker is the best CD burner(CD writer) software. It can convert MP3 files to WAV files and burn WAV files to CD tracks. With our program, you can listen your favoriate MP3 or WAV songs on regular stereo, car CD players, and so on. It supports over 1200 CDR/RW drives and 42 languages. It used by ten thousands of users everyday and it runs well on all 32-bit windows system.

---
Ace CD Burner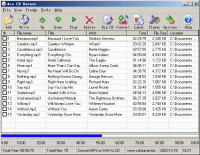 Ace CD Burner is a piece of software for burning MP3 or WAV files as CD audio that could be played on car CD player, CD discman, and so on. Ace CD Burner includes a CD ripper for ripping CD audio tracks to WAV files, an MP3 player for playing MP3 or WAV files, a CD label maker for designing and printing label for your CD, an MP3 to WAV Converter for converting MP3 files to WAV files. Ace CD Burner includes an MP3 player for playing MP3 or WAV files. By converting WAV to WAV, it could resample the WAV files with different format including Channels, Frequency, and Bits per sample. For example, users may need to resample the WAV's format to a standard format "44,100 Hz, Stereo, 16 Bits" for buring as audio CD.


---
Ease CD Burner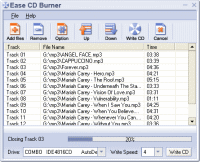 Ease CD Burner burn your WAV, MP3, OGG or WMA files to audio CD Ease CD Burner burns WAV, MP3, OGG or WMA files to Audio CD format for normal CD player acces. You can directly burn your WAV, MP3, OGG or WMA files to audio CD, just uncheck 'Cache/Normalize Files Locally' on the options windows. Or to normalize your audio file, you should check 'Cache/Normalize Files Locally' on the options windows, then our software will first normalize and decode your audio files to CD quality WAV files - 44100Hz, 16bit, Stereo, in the temp file format. If the process is successful, Ease CD Burner will then burn the temp WAV files to your CD, or the burning will be cancel. After the burning, the temp files will be deleted automatically. And also, it is extremely easy to use for Windows 9X/NT/Me/2000/XP.

---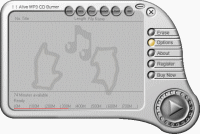 Alive MP3 CD Burner
Alive MP3 CD Burner is a piece of cd burner software for burning MP3, WAV, or OGG Vorbis files as CD audio quickly and easily. The software has a cool and easy to use interface. To use the software, a good mouse is must-have. With several clicks, your work will be done. And the audio cd could be played by your car CD player. It works on Windows system including Windows 98/ME/NT/2000/XP .
---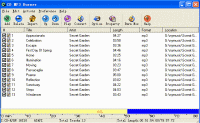 CD MP3 Burner
What can you do with the downloaded MP3 files? Burn your favorite songs to CDs so you can listen them in your home or car stereo CD player. CD MP3 Burner is such a CD-burning software that can convert MP3 files to conventional Audio CD with two easy steps. It supports MP3 to CD with high speed and quality.
---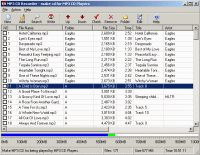 MP3 CD Recorder
MP3 CD Recorder is a piece of software designed for the purpose of writing MP3 files as MP3 CD for being played by MP3 CD Players. MP3 comression can save you 10 times of disc space without lose too much audio quality. An audio CD may save 10 to 20 songs, or 80 minutes of audio. Comparing with Audio CD, an MP3 CD can save around 200 MP3 songs of 128 kbits, or more than 10 hours of music, and it can even save more if you decrease the MP3's bitrates. With this MP3 CD Recorder, you can burn hundreds of MP3's to an empty CD. The CD may be played by MP3 discman or MP3 CD players.

---
CD to MP3 Ripper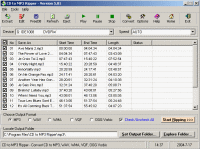 CD to MP3 Ripper can convert CD to MP3 WAV WMA OGG VQF. It can also convert MP3 WAV WMA OGG from one format to another. It supports editing ID3 tags, normalizing WAV files, and accessing FreeDB titles. CD to MP3 Ripper rips audio CD tracks and save them into audio formats mp3, wav, wma, VQF or OGG Vorbis. CD to MP3 Ripper is a fast, easy to use while powerful cd ripping tool. This software offers rich options for your special requirements. MP3 Encoder supports CBR and VBR encoding. CD to MP3 Ripper also supports four channels mode including Stereo, Joint Stereo, Mono and Dual Channel. By changing MP3, WAV and WMA settings, you may make a choice between speed and quality.

---
Ease Audio Converter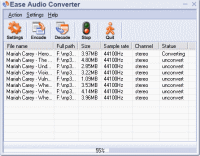 Ease Audio Converter is a software which directly decodes one compressed format to WAVE or encodes WAVE to any compressed format. Ease Audio Converter converts the audio files digitally-not through the soundcard-which enables you to make perfect copies of the originals. You can decode compressed format to WAVE, so you can burn your own CD audio (Assuming you have a CD-R) or use your favorite audio editor. Converting your files is just a button click away because this program is user-friendly-directing the users from start to finish. You'll be an expert in no time! Encode WAVE to PCM, MP3, MP2, OGG, VOX, RAW, GSM, WMA, and so on. Decode MP3, MP3, OGG, WMA, and other encoded audio to WAVE.