We have been a member
of ASP since year 2001.
AV Voice Changer Software Diamond 7.0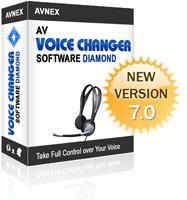 Do almost anything with your voice!
Voice Changer Software Diamond is the latest edition in the Voice Changer Software series which is dedicated to voice changing and voice manipulating for online and local computer-based programs.
AV Voice Changer Software Diamond is a powerful and unique Voice Changer Software that can do a wide range of voice changing related tasks for many different purposes, such as voice-over and voice dubbing for audio/video clips, voice messages, narrations, presentations, voice mails, E-greeting cards, etc. mimic the voice of any person, change voices in songs, create animal sounds, etc.

This Voice Changer Software can be used with all online games including Second Life, EVE Online, World of Warcraft, Lord of the Rings Online, Everquest, Counter-Strike, Battlefield 2 and many more.
Voice Changer Software Diamond works well with many VoIP and Instant Messaging programs such as Skype, MSN Live Messenger, TeamSpeak, Ventrilo, Yahoo Messenger, AIM, XFire, GoogleTalk, Roger Wilco, Net2Phone and much more.



---
Outstanding features of Voice Changer Software:
Changes your voice in real-time and in-game, add background effects, create animal voices, etc.
High-quality voice output: Advanced algorithms, setting combinations: changing, tuning, improving, equalizing, and more.
Compatible with many voice chat applications, instant messenger programs, VoIP programs, and online games.
User-friendly interface
Switch from Full mode to Game mode for low bandwidth and CPU usage while maintaining excellent performance, especially when you play online games.
The only application that not only changes voice pitch, but also voice timbre, and in real time
Ready-to-use "nickvoices"
Create up to 54 animal voices from your own voice with a simple click
More than 50 effects, hundreds of presets available; layer multiple effects to create unique ones and save them for later use
Compatible with almost any media program, hooks all streams, including WaveOut, DirectX
Control multi-band pitch, modify base format of any singing voice
Ready-to-use equalizer presets, noise reduction, and sound limiter
Adjustable sound parameters: DVD/radio/telephone-quality sound output; defaults to full duplex
Background affects: Use your voice via microphone and add in any background sound from 15 presets, or load in your own background sounds.
Capture chat conversations, Internet radio, record any voice, sound, or music clip from any source.
Built-in mp3 player works with the morphers, equalizers, effects and filters; plays almost any format.
Voice comparator: Similarity analysis, celebrity voice samples, import someone else's voice and compare it to any other voice
Voice analyzer: Analyze 3 fundamental characteristics of your voice.
Parody maker: Create your parody voice or mimic other people's voices.
Parody mixer: Mix parody voices to create a new parody voice.
All the great benefits of Voice Changer Software:
Sexier voices, more self-confidence.
Fun in chat zone, phone, games and more
Create your own character online
Role-playing gadget
Easily create your own, high quality voiceovers for movie, radio, narration, and more
Funny voicemail greetings and messages
Change the singing voice, apply effects, and save as new songs in mp3, wma, or other formats
Home audio recording studio
Humorous celebrity prank calls, parodies
Add any background sound while you talk and sound like you are somewhere else.
Voice actor tool
Funny mp3 ringtone maker
Voice mimicker
All-in-one audio morphing application
Vocal improvement at home
Hollywood-style sound effects
Karaoke lover's gizmo
Main Screenshot of Voice Changer Software Diamond: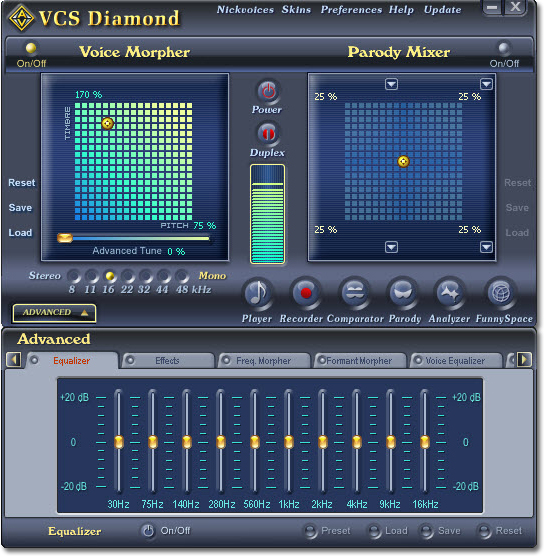 General Minimum Requirements:
Operating Systems: Windows 2000, XP (32 bit / 64 bit), Vista (32 bit).
Hardware Requirement: 512MB compatible processor, 250MB Ram, Full Duplex Sound Card.
Optional components: DVD drive, CD drive, webcam, microphone and speakers, CD Writer
Notes: Windows Vista 64 bit and Mac OS X are NOT supported