Home
Download
Buy Now
Screenshot
Contact
Software Library
MP3 Converters
Introduction
---
Screen Capture Screenshot Maker is a software for capturing screen shots and save them into BMP or JPG files. You may capture by several ways including full desktop, each windows and buttons, rectangle, block, and more. It supports saving your captures to BMP or JPG files automatically. The value of compress quality of JPG format may be customed from 0 to 100. You may capture a window or button by dragging a spy icon over it and then drop the mouse to make a capture. It also shows window's name and class, pixel's color, and other useful information during mouse moving. So you can also use it to pick any color value from your screen. It supports work with hot keys and you may set the hot keys to what you like. Try it, you will feel more features from this software. Why not dowload it? It's free to try.


Download a copy of trial version
Buy Now for only US$14.95
30 DAY NO RISK MONEY BACK GUARANTEE!
WE GUARANTEE THAT THE DESCRIPTION OF THIS SOFTWARE IS RIGHT OR YOU MAY CANCEL WITHIN THE FIRST 30 DAYS AND WE'LL ISSUE YOU A FULL REFUND - NO QUESTIONS ASKED!
Screenshot
---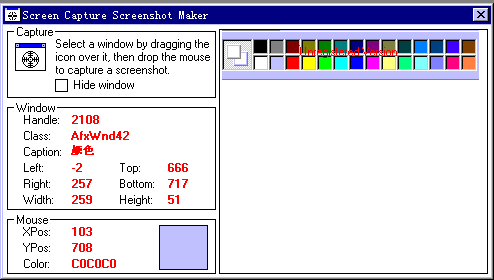 more screenshots
Key features
---
Easy to use
Capture full desktop, each windows, buttons, area, and so on easily.
JPG and BMP formats are supported and you can customize the quality of JPG files.
Hot keys and drag-and-drop are fully supported, you may capture by dragging and droping the mouse or pressing hot keys.
Save screenshots automatically.
Pick the color of any pixels on the screen.