Rocket Mania Deluxe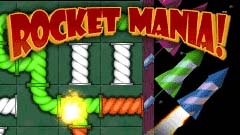 Rocket Mania Deluxe Game Description :
Let's launch some fireworks! As night falls over ancient China, it's up to you to put together the most awesome fireworks display in this addictive puzzler. The Fireworks Dragon is there as your guide, but only you can connect the fuse to the rocket and create a dazzling display of light, color, and sound. Wow the crowd and you'll be rewarded with cheers and coins. Do you have what it takes to be a Fireworks Master?
Free Download 3.89 MB Buy Now $19.95 Buy CD Jewel Case $21.95

System Requirements:
Rocket Mania Deluxe Screenshots:
Windows 7/Vista/2000/XP
300MHz, Direct X 7
64MB RAM
15MB free HD Space

Click to See Bigger Image
Rocket Mania Deluxe Full Version Features:
Simple, Addictive Gameplay.
3 Unique Game Modes - Classic, Arcade and untimed Strategy modes!
Beautiful Full Screen Graphics.
Explosive Sound Effects
Awesome 3d-accelerated fireworks effects!
Exciting musical score!
Play offline.
Can you become the Master of Pyrotechnics?
If you like Rocket Mania Deluxe, You'll also like:
---

Zuma Deluxe

QBZ
Bejeweled 2 Deluxe