Puzzle Myth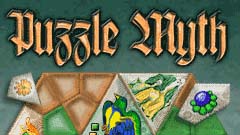 Puzzle Myth Game Description :
A totally new twist on classic puzzle game.
The challenge is all on you as you try to fill a stunning mosaic with beautiful gems to score points and bonuses. Each decision you make will have an impact on your score and success. Gorgeous graphics and sounds enhance the mind-bending gameplay, while dozens of amazing levels keep you entertained for hours! Another unique twist on the puzzle game.
Free Version Download 3.32 MB Buy Full Version $19.95

System Requirements:
Puzzle Myth Screenshots:
Windows 7/Vista/ME/2000/XP
DirectX 7.0 or better
64MB RAM, 15 Mb free hard drive space
Pentium 333 or better
DirectX-compatible sound card

Click to See Bigger Image
Puzzle Myth Full Version Features:
60 Challenging Levels.
Over 50 varieties of gems.
Original Soundtrack.
Beautiful Full Screen Display.
High scores.
If you like Puzzle Myth, You'll also like:
---

Zuma Deluxe

Fiber Twig
Bejeweled 2 Deluxe