Noah's Ark Deluxe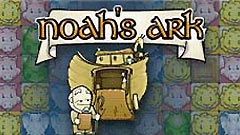 Noah's Ark Deluxe Description :
The great storm is coming, the water is rising, and you've got animals to save! Match the animals to send them up to the ark to safety, but be quick about it, the waters are rising fast. Combines elements from all your favorite puzzle games with cute animal graphics and sound effects for a fun and varied puzzler that's great for the whole family. Now you can bring all the animal-matching fun home to your desktop!
Download FREE Demo 2.63 MB Order Full Version $9.95

System Requirements:
Noah's Ark Deluxe Screenshots:
Windows 7/Vista/2000/XP
Pentium II 300MHz
DirectSound-compatible sound card
64 MB RAM
10 MB free HD space

Click to See Bigger Image
Noah's Ark Deluxe Full Version Features:
Bonus 'Stampede' Rounds!
All-new animals and animation!
Play in windowed or beautiful full screen mode.
3 great game modes: Puzzle, Action, and Strategy.
3 difficulty levels so there's a great challenge for everyone.
Cool hints feature in case you get stuck.
If you like Noah's Ark Deluxe, You'll also like:
---

Alchemy Deluxe
Magic Vines

Diamond Drop