Mummy Maze Deluxe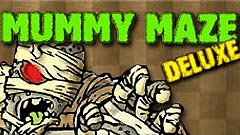 Mummy Maze Deluxe Game Description :
The Golden Mask of Tutankhamen awaits discovery, but only a daring and crafty adventurer can overcome the curse of his tomb! Outwit the mummies to escape each maze, deep within the pyramids. An addictive puzzler combined with a great adventure - show me the Mummy!
The PC conversion of the hit web puzzler features the brand new Adventure mode, spectacular new graphics and sound, and nearly 10,000 all-new mazes!
Free Download 3.62 MB Order Full Version $19.95

System Requirements:
Mummy Maze Deluxe Screenshots:
Windows 7, Vista, ME,2000,XP
Pentium II 300MHz
Direct X 5.0
64 MB RAM
20 MB free HD space

Click to See Bigger Image
Mummy Maze Deluxe Full Version Features:
Stunning new 3d graphics and hand-drawn art!
Play in windowed or beautiful full screen mode.
Play in Classic or Adventure Mode.
Defeat 15 of the most devious pyramids we could devise!
Save your high scores for posterity!
Save Game feature lets you re-join your adventures.
Make a mistake? Use the Undo feature to try again.
Nearly 10,000 new mazes to try, as large as 10x10!