Fiber Twig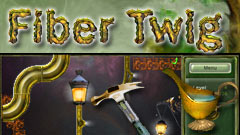 Give free rein to your imagination in the fantasy forest full of puzzles and mysteries. Connect cute little twigs to restore the original pattern, which was destroyed by the hurricane, and get a beautiful picture at the end of the level. The twigs pass by at the bottom part of the screen, slowly accumulating. Choose any and attach it to the one that's already on the playing field, then continue connecting twigs with eah other until you reach the top of the screen.

Download Free 5.50 MB

Buy Full Version $19.95
Fiber Twig Screenshots:





Click to See Bigger Image
System Requirements:
Windows 7/Vista/2000/XP
Pentium 500 or better.
DirectX 7.0 or better.
64MB RAM
30 Mb free hard drive space.
Fiber Twig Full Version Features:
18 Levels of Mental Mysteries.
Lots of friendly creatures, living in the fantasy garden.
Challenging twig combinations.
Comprehensive demo with the basic rules.
Stunning effects (transparent twigs, rain, fire and much more).
Marvellous soundtrack.
Hours of absorbing gameplay.
Access to new exciting levels.
Many other lovely creatures.
A variety of twig combinations.
If you like Fiber Twig, You'll also like:
---

Crystal Path

Puzzle Myth