Dynomite Deluxe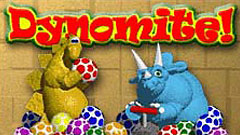 Dynomite Game Description :
Get prehistoric with this egg-blasting puzzle game, launch dino eggs to solve the puzzle, but watch out for Mama brontosaurus! This new PC game is a spectacular action puzzler for everyone. Dynomite features awesome graphics and sound, along with 4 different play modes, from frantic action to slower, turn-based brain-busters.
Dynomite will have you blasting your way to your computer to play again and again.
Download FREE Demo 2.91 MB Order Full Version $19.95

System Requirements:
Dynomite Deluxe Screenshots:
Windows 7/Vista/2000/XP
Pentium II 300MHz
DirectSound-compatible sound card
Direct X 7
64MB RAM
12MB free HD space

Click to See Bigger Image
Dynomite Deluxe Full Version Features:
3 Difficulty Levels - Easy, Hard and Super.
4 Different Game Modes - Endless, Stomped, Fossil Challenge and Time Trial.
Save your high scores to compete with family and friends!
Hilarious, Loveable Characters Make Playing Even More Fun.
Tutorial to Get First Time Players Up to Speed.
Crazy Dialogue and Sound Effects.
Dynamic new musical score!
Play in Window or Beautiful Full Screen Mode.
If you like Dynomite Deluxe, You'll also like:
---

Alchemy Deluxe

Diamond Drop