Crystal Path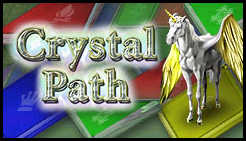 Crystal Path Game Description :
Follow the trail to family fun with this addictive puzzler. Arrange magic crystals in groups of three or more to remove them from the screen and clear the way. Strange creatures will try to block your way, but you've got wits and speed on your side. Featuring dozens of challenging levels, amazing graphics, and challenging game play, this enchanting treat from the creators of Magic Inlay and Fresco Wizard will surprise and delight adventurers of all ages.
Free Download 7.12 MB Buy Now $19.99

System Requirements:
Crystal Path Screenshots:
Windows 7/Vista/ME/2000/XP
DirectX 7.0 or better
64MB RAM, 26MB free HD Space
Pentium 500 or better
DirectX-compatible sound card

Click to See Bigger Image
Crystal Path Full Version Features:
Dozens of large levels in 8 fabulous lands.
Unique fairy creatures.
Lots of graphic effects.
Bonuses, Magic Skills, High scores, ...
Authors soundtracks.
Hours of absorbing gameplay.
Access to new exciting levels and lands.
Many other lovely creatures.
If you like Crystal Path, You'll also like:
---

Puzzle Myth

Fiber Twig

Holiday Express