Home
Buy Now
DVD to MPEG Converter
DVD to AVI Converter
Frequently Asked Questions
Share2.com
More DVD Software ...
How To Convert Your DVD To Avi / Divx ?
---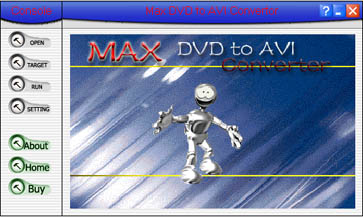 1. Click the OPEN button to select your DVD Disk or VOB or MPEG file.
if you want to convert all the movies in your DVD Disk ,you need to select the IFO file. The IFO file is the index of your DVD Disk. Usually you can select the 'VTS_01_0.IFO'.
2. Click the Target button to select the output path and type the output file name.
3. Click the Run button to start convert.
then ,when you click the Run button ,the Audio and Video compresser select window poped up let you choose the format of your output file.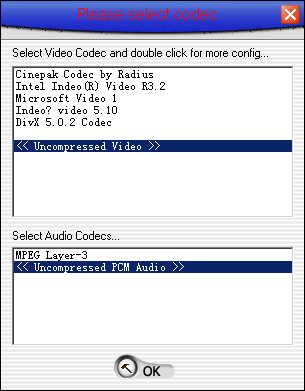 If you want to convert your dvd,vob,mpeg to normal AVI file ,you should to select the Audio and Video compresser like the upper Picture. that mean ,you need to choose Uncompressed Video and Uncompressed Audio
If you want to Compress your output file to other format like DIVX you need to select the Video Codec as 'Divx 5.0.2 Codec'.
If there is not the 'Divx 5.0.2 Codec' listed in the Video Codec,you need to Install the DIVX Codec.
Please download the Divx codec :http://www.divx.com/divx
If you have any problem, click here to send a message to us.

Buy the powerpack including DVD to AVI Converter and DVD to MPEG Converter for ONLY US$45.00, you will save $15.00.


Copyright © 2011, Share2.com - DVD Decoder Team (DVD to MPEG Converter, DVD to AVI Converter)