We have been a member
of ASP since year 2001.
Music Collector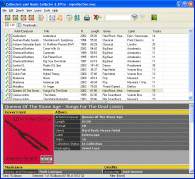 Catalog your CDs automatically for Windows
Music Collector is a Music Collection program that helps you catalog collection of CDs, LPs, Minidiscs, etc... download artist, title, tracks, cover image, etc... Add CDs to your database using your CD-ROM drive, typing/scanning their barcodes or typing artist and title. This organizer software runs on Windows 7, NT, Vista, 2000 and XP.

Use this music database software to catalog your collection of CDs, LPs, Minidiscs, etc... Adding albums to the database is quick and easy, no typing needed. Just insert a CD in your CD-ROM drive, scan its barcode or type artist and title. Music Collector will automatically download all information from various sources on the internet (like CDDB, Amazon and AMG), including the cover image. It can also read CDTEXT information, if available.

Organize your music collection in a database and finally know exactly which CDs you own.


---
Use Music Collector to:
Catalog CDs automatically
Just insert a CD in your CD-ROM drive, type artist/title or scan its barcode to add it to your database.
Download all CD data
Including cover image, artist, title, track titles, year, label, etc...
Browse your CD covers
Use the Thumbnail View to browse your collection by cover image
Instantly sort your lists
On any field, e.g. alphabetically by artist, title or genre, or by year
Search your music database
E.g. find which CD a song is on, or find CDs on a particular label
Print CD or track lists
Export data to HTML, XML or CSV
Track your loans

System Requirements:
Windows 7/NT/2000/XP/Vista
Intel Pentium CPU 300MHz or higher
64 MB RAM
CD/DVD Recording Drive



Check out what the users say:
"This is one of the easiest music database software I have ever used to catalog cd collection. I didn't have to worry about a bunch of features I didn't need. Nice, clean user interface with just the right amount of features."
- Joalin Bates