Varmintz Deluxe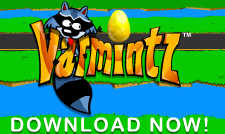 Classic 'Hop and Dodge' action is reborn in this exciting arcade game! Meet five furry Varmintz that really need your help! Guide your scrappy raccoon posse across highways, construction sites, rivers and forests to get them safely back to their dens. Search for Golden Eggs and Power-Ups along the way. 50+ levels with a variety of challenging obstacles and in-game enemies, some of which include rabid dogs, lumberjacks, cowboys, joggers, and skateboarders.
Product Information :
Varmintz Deluxe Screenshots:
Current Version: 1.0e
Download Size: 6.83
Game Price: 19.95
PC :
Windows Vista/7/XP/NT/2000
333MHz, 64MB RAM
Macintosh:
Mac OSX 10.4 or later


Click to See Bigger Image
Varmintz Deluxe Full Version Features:
50+ Levels that Unlock Over Time.
Adorable Characters.
Classic Arcade Style Graphics.
In-Game Hints and Tips.
Play Full Screen.
Save Your High-Score.
If you like Varmintz Deluxe, You'll also like:
---

Ancient Taxi
Wonderland
Cactus Bruce