Brave Dwarves 2: Fabulous Adventures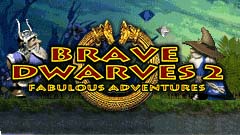 Brave Dwarves 2: Fabulous Adventures Description :

Charming challenge for two brave dwarves! The story includes all the 12 volumes.
Everyone's favorite fearless little fighters are back to battle evil once again in Brave Dwarves 2: Fabulous Adventures. See fantastic worlds! Fight strange creatures! And, rescue the kingdom from the clutches of a dangerous power. Who says size matters?
Download Now 5.40 MB Buy Now $24.95 CD-ROM $9.95

Minimum Requirements:
Brave Dwarves 2 Screenshots:
Windows 7/Vista/2000/XP
Pentium 400
DirectX installed
32 MB RAM
8Mb video card

Click to See Bigger Image
Brave Dwarves 2 Full Version Features:
Game play without blood and violence for the entire family.
Adventure in the fabulous world of magic.
FIFTEEN beautiful sound themes.
Rich graphics artwork.
TWELVE episodes with something new on each one.
Fight with new strong creatures.
New items and weapons.
Play dwarven-slot-machine.
Save/Load Your game.
Post your personal scores to Internet.
No nags! No limitations!
If you enjoyed Brave Dwarves 2, You'll also like:
---

Flyonoid

Brave Dwarves