Search Engine Builder Professional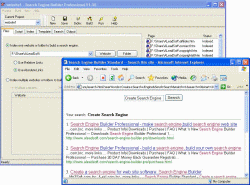 Search Engine Builder Professional adds a search box to your website.

Many visitors to your website are usually looking for specific information. If they have to take too much time to find what they want, you'll lose some of them. Search Engine Builder is specifically designed to help with that problem. It indexes your entire website quickly and generates an efficient search engine. It makes it easier for your visitors to find things on your website and gives it a more professional appearance. Creating a search engine with this tool is easy. Just click a few buttons and let the spider code do all the tedious work for you.

Create a site search tool with this software is very easy. What you need to do is just clicking several buttons.Let the tedious spider code keep faraway from you.

This professional version can deal with sites that have thousands and millions pages.



This program adds a search box to your Web site. Depending on the size of the site, creating the search index takes minutes. You don't have to enter any passwords or logins, just a URL. Below the main window, which lists all the pages the program has indexed, several lines show the index file URL and how many pages already are indexed. You can customize the search by setting up templates and colors for the results pages, and by adding links and marking pages you don't want indexed. Webmasters should appreciate the quality output and configurability.