FFA Blaster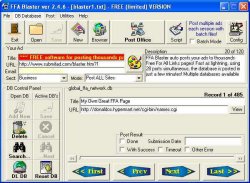 FFA Blaster is for anyone who promotes and marketing anything on the Internet! It's a powerful submission tool built with one goal in mind: to save you time and aggravation as it speeds you through your submission process ... The FFA Blaster user interface is very easy to understand, and within a couple minutes you can watch your first ads blast out fast as the speed of lightning...

If you're an online marketer who's looking for the Internet's most self-explanatory, cost effective software system for advertising your products on all those FFA links pages, then your search has ended.

Now you can quickly, in just a few easy steps, create your own ads and blast them out for millions to see on thousands of FFA links pages all over the internet.



FFA Blaster Features:
Superfast posting using 28 ports simultaneous. (Database posted in just a few minutes!)
Posts to FFA pages on our ever growing/changing global database!
3 different posting modes: Adult, No Adult or All FFA pages!
Built in browser that add FFA pages to our global database!
Build your own personalized databases!
Batch mode: Post multiple ads in batches!
Post attractive hit-pulling ads in color!
Generates both CGI script and HTML for your own personalized FFA page!
Automatically upload and install your new FFA page on your server!
Register your FFA page(s) to our global FFA database!
Unlimited download/update of database from our global FFA database!
Register your FFA page(s) with 18 TOP search engines in a couple of minutes!
Import ASCII files direct into your databases
Built in email address cleaner
Built in emailer to send out delayed follow-up emails!